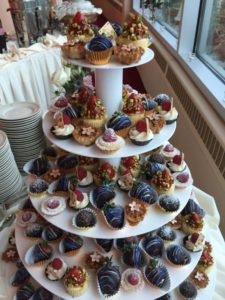 STEPPING STONES OF A STRONG FOUNDATION
September 18, 2018
SMALL COMMUNITY – BIG SUPPORT
COMING FROM A STRONG FOUNDATION
There are many examples of hardworking, dedicated, successful individuals in our community who graduated from Parkview School District.  One of these is Matt Reichard.
4th Grade
Matt is a life-long friend of my husband, Brad.  He grew up in Beloit and Orfordville and went to school at Newark Elementary in the early 1970's, then attended Parkview Jr High and graduated from Parkview High School.
GROWING UP ON A FARM
Growing up on a farm outside Newark, he first thought he wanted to become a veterinarian.  But around the age of 10, he started cooking meals for his Mom to get out of working in the garden!  At 14, he worked as a dishwasher in a Chinese restaurant, beginning his restaurant experience.
OUT INTO THE WORLD
After graduation, he went to work for Telemark Lodge in Cable, WI as a line cook until the mid-1980's.  When the Minneapolis Convention Center was being built, he became Sous Chef and was instrumental in the growth and development of the facility.  After working for the Convention Center for 8 years, he accepted the promotion to Executive Chef for the Monona Terrace Community and Convention Center in Madison so he could return home to Wisconsin.  He has been with them for 21 years.
Matt and his wife, Susie (of 18 years) live on 6 acres in rural Mount Horeb.  They volunteer for the rescue group AARVSS (Animal Rescue & Veterinary Support Services).  They foster many less fortunate dogs and puppies which gives Matt the opportunity to take part in the support and welfare of animals.  They have 5 dogs and two chickens themselves and enjoy country life.  They also enjoy coming down to the Orfordville/Footville/Beloit area to see old friends and family who still live in the area.
FRIENDS IN FABRICATION PLACES
Matt has had Brad do some projects for his home as well as Monona Terrace.  He says Brad always comes through with quality and precision that is unmatched and is a good friend to have!
Our most recent project for Monona Terrace…
SMALL SCHOOLS-BIG ACCOMPLISHMENTS
The benefits of a small school go far beyond academic achievement and test scores.  Small schools present unique opportunities for social emotional growth, relationship building and high expectations both in and out of the classroom. https://www.standrews-ri.org/page/news-detail?pk=873026#
These are the type of benefits that have helped shape Matt into the successful person he is today.
It would be interesting, even astounding, to be able to identify the number of successful professionals in business, education, science, and other disciplines who received their public education in a small school.  The small country school of yesteryear was the impetus from which many of today's better known educational "innovations" originated.  Notions such as non-graded classrooms, individualized instruction, low student/teacher ratios, cross-age grouping, peer tutoring, using the community as a resource, "mainstreaming" mildly handicapped pupils, and emphasizing the basics—to name just a few—all have their roots in the small school of the past.
Newark Township School Dedication Nov 22, 1959
You May Also Like
April 7, 2020
July 2, 2015
September 12, 2019