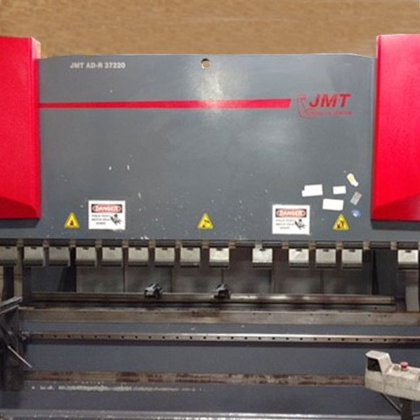 JMT PRESS BRAKE AQUISITION
January 13, 2015
JMT PRESS BRAKE OPERATION
Hydraulic press brakes offer accuracy and versatility for bending simple or complex metal parts. JMT press brakes have mulitple axes and come in a wide range of lengths and tonnages.
JMT AD-S PRESS BRAKE BREAKDOWN
120″ bending length
150 US Tons
Y1, Y2 Ram Positioning
X/R CNC Back Gauge
Sliding Front Sheet Supports
Delem DA66W Control
CNC Crowning, WILA
WILA American Standard Hyd. Punch Clamping with Pump
Z1, Z2 Controlled Finger Movement
AKAS Laser Guarding
JMT AD-S PRESS BRAKE SAFETY
AKAS LASER GUARDING
The AKAS® Press Brake Laser Guarding safety system is the most sophisticated press brake point of operation safeguarding package on the planet. OEM or retrofit, this incredible technology allows operators to handle even the smallest parts safely – even right up next to the die – with no significant effect on production.
The laser – accident preventing light barrier AKAS® is an electro sensitive protective and controlling device
(ESPE) which has the function to protect operators from accidents.
This happens as follows: Before a part of the body is squeezed between two opposed moving machine parts,
this part of the body interrupts at least one light beam. By this means the movement of the machine is stopped,
before it comes to an injury.
AKAS®
– meets IEC 61496, Type 4
– is self- monitoring without additionally wiring.
– easy to adjust after tool changing.
Sources: http://www.pressbrakesafety.com/
& Fiessler Elektronik
You May Also Like
August 18, 2015
January 29, 2015