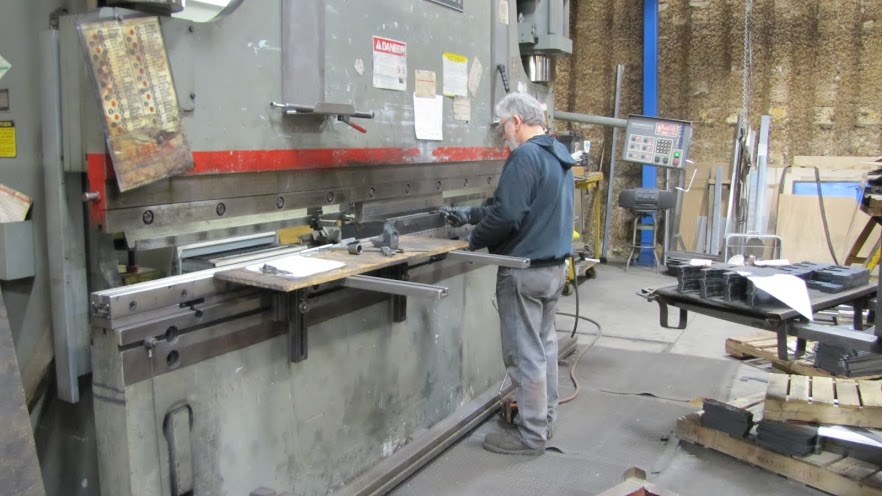 CINCINNATI PRESS BRAKE
January 20, 2015
BENDING ON A CINCINNATI PRESS BRAKE
RATING
All CINCINNATI press brakes are rated for maximum bending pressure, or tonnage. Tonnage can then be converted into ending capacities through an understanding of basic factors affecting the formability of metal. Bending factors, or "rules of thumb," for press brake forming are based on using mild steel (60,000 psi maximum tensile strength).
Vee Die Opening and Inside Radius
The recommended vee die opening for mild steel up to 1/2" (.500") thick is eight times the metal thickness. For thicker than 1/2" mild steel, it may be necessary to increase the vee die opening up to ten times the material thickness to minimize cracking of the material. To determine the vee opening for a simple 90° bend, multiply the metal thickness by eight. The answer is then rounded to the next higher 1/8" figure. For example: 14ga. (.075") x 8 = .600". This is rounded to a 5/8" vee opening. The inside radius of a bend in mild steel is about 5/32" (.156") x the vee die opening regardless of the gauge of metal being formed. This figure was determined by measuring formed samples bent over various die openings. To illustrate: If a 1/8" (.125") sheet and a 1/4" (.250") plate are formed over a 2" vee die, each will have the same inside radius of approximately 5/16" (.312").
GENERAL SPECIFICATIONS OF THE 230CBII HYDRAULIC PRESS BRAKE
Capacity 230 Tons
Overall Length of Bed & Ram 14′
Distance Between Housings 12'6 3/4″
Stroke 10″
Open Height 17″
Closed Height 7″
Throat Clearance 8″
Speeds:
Approach 155″ per min
Form 8-16-35″ per min
Return 175″ per min
Back Gage Speeds X-Axis', 1200″ per min
Main Motor Horsepower 15
EQUIPPED WITH:
Cincinnati Heavy Duty Back Gage
Electric Foot Switch
Pedestal Palm Button Station
Manuals
Interlocked Construction
Clevis Mounted Self Aligning Cylinders
APPROXIMATE OVERALL WEIGHT 33500 LBS
APPROXIMATE OVERALL DIMENSIONS 13'5″L X 60″W X 126 1/4″
Source:http://www.e-ci.com/
You May Also Like
March 24, 2015
January 29, 2015
June 20, 2017